Call 888-825-1677 today.
(Have you ever heard a smile?)
100% Money Back Guarantee
A Good Neighbor Heating & Cooling guarantees that during the entire first year that you own your new system, if for any reason you are not 100% satisfied with the performance of the equipment, our service, or even our people, we will remove the system within 30 days of your request and cheerfully refund the entire amount of your investment.
"If at any time during the first year of installation, you are not 100% satisfied
with the performance of the equipment, our service or even our people,
we will, within 30 days of your request, remove the system and
cheerfully refund the entire amount of the contract."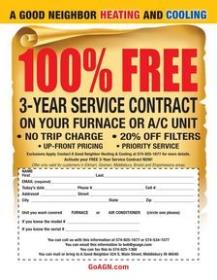 Call TODAY to be activated!
NO DISPATCH FEE and NO TRIP CHARGE
*covers one piece (service only) - furnace or air conditioner
*maintenance agreements (to honor manufacturer specifications) sold separately by calling our office or by visiting
http://www.agoodneighborclub.com