babies
innocent
precious
tiny vessels
just waiting
for us to
fill them up
with knowledge
hope, laughter, love,
kindness,
caring,
gentleness,
truth,
and all other
characteristics
that will make
them just as
beautiful on
the inside
as they are on
the outside
babies ...
a true
reflection of
our efforts. - bd

there will be many times that we will seek understanding along the way, you and i
may i always hear you
when you beckon me to
&
may you always hear me
when words of wisdom
that will keep you
from harm's way
fall upon your ears
and words of love shower you
enough to fill your heart
-bd
how do we manage to weather the teenage years?
we who now have teenagers
were ourselves,
once upon a time,
full of conflict
and emotion
defiance and ignorance
we once worried our parents
and tried our teacher's patience
how do we lead
when we too were once followers
how do we succeed
where others have failed
listen my friend
and i will tell you this simple truth ...
LEAD by example
INSTITUTE a strong moral
REACT with a tender heart
RESOLVE to do what is right
instead of what is easy
be INVOLVED
QUESTION with authority
INSIST on honesty
BE CONVICTED
and STRIVE not to enable
COMMIT to saying "no" when "no" needs to be said
most of all ... LOVE
- bd


there was a quirky, catchy tune
running thru my head
i thought of you, of us, enough said
it brought a smile to my lips
to my heart ... to my soul
and i longed for those times
now long lost & blackened like coal
we used to dance, to play
to sing at the top of our lungs
then an illness came calling
put a quick end to our fun
no longer the spontaneous laughter
rolling forth
pain lingers, loss envelopes with
questions of life's worth
illnesses happen, this much i know
but what happens after
left me steel blue and cold
'til a quiet voice, a quirky song
played in my head
and for the first time since
i now realize
you'll never really be dead
it brought a smile to my lips - bd


a little waggly tail
a long sloppy tongue
just a dash of frolicking
you look up at me
with expectancy
eager for our next step
who knew
such joy
could be all wrapped up
in a bundle of fur
- bd

They say great things come in small packages.
This is true.
Time and again
it's the smallest of things
in this life
that bring us the greatest joy.
Smiles,
babies,
puppies,
kittens,
kisses,
dandelions given to us by a small child,
bunnies,
chocolates ...
the
list
just
goes
on
and
on.
-bd

look at you all grown up
what are you ... three now?
you are such a big girl
i see you creeping around the corner
ready to bless the teddy bears
strewn across the floor
with your princess wand
you step so carefully
in your pink "glass" slippers
(wouldn't want to scare the bears)
and so softly, gently ... you press
your wand to the first one's head
and with a concentrated look
on your pretty little face
you say "awise!"
and i try diligently to keep the laughter inside
that is trying so hard to escape
once again you teach me
the simple, innocent faith of a child
- bd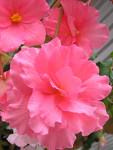 Grandchildren ...
I hear their tiny footsteps softly tap across the floor, timid and unsure at first then it seems
as though I barely turn around
and those tiny taps turn into sure footed sprints
running here & there
to & fro
I remember my grandmothers
Oh, how I cherished them
and suddenly my arms
are full of cute little curly-headed children
begging for my attention
and those freshly baked
peanut butter cookies.
Grandchildren,
even in as much as I am not the grandmother that my grandmothers were to me
my grandchildren only see the only grandmother I have ever been ... that they have ever had and they cherish me.
Grandchildren,
they bless me beyond words.
I LOVE YOU JASON, JADA, TRINITY, MALIYAH, YZELL, CUBBY, SUMMER, SCOTT & NALIVIYAH
-bd
h
a
p
p
i
n
e
s
s
a
b
o
u
n
d
s
w
h
e
n
l
o
v
e
'
s
a
r
o
u
n
d