From the Pulpit of local churches in
Bristol, Middlebury & Shipshewana, IN.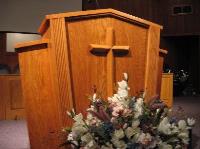 MAY 2009
If you are not a churchgoer at present, I imagine it would take some real willpower to change your current Sunday morning routine. It would also take some bravery to walk through the door of a church building and just look around at the life inside. But if you were brave enough to step through the door of, say, Middlebury Church of the Brethren just a little before 9:oo a.m., what would you find there?
Well, for starters, a warm welcome. Someone might even open the front door for you. If not, there is always a cheerful person stationed to the left of the main entrance who will greet you, help you get oriented to the building ("Where's the bathroom in this place, anyway?") and point you toward our sanctuary.
Upon entering the sanctuary (fancy name for big meeting room), additional greeters will shake your hand and smile like they mean it, because they do. Then an usher will give you a worship bulletin (a small program which gives the starting lineup and tells what inning we're in). These friendly men and women will also help you find a seat if you'd like help, but there are usually plenty of open options. Notice: There are no reserved pews, so you won't ever be sitting in someone else's place. (But should anyone look at you that way, just tell me and I will deal with them personally after the service!)
Worship itself is an interesting mix of traditional and contemporary styles. We sing hymns and use a worship band. We have open mike to share our joys and sorrows. We take children seriously and have special moments just for them (though we have a staffed nursery as well). Sometimes new converts are baptized in our baptistery up front, and all their friends and family gather 'round close enough to dip their hands in the water. Most often there is a sermon, which varies in popularity depending on the topic, but which always comes from a considerable Bible study, prayer and thinking on the issues of our day.
Come sometime!
-Pastor Dan Petry
of the Middlebury Church of the Brethren
507 W. Bristol St., Middlebury, IN 46540
(574) 825-2955
JUNE 2009
It looks like a quiet little church in the country, all red brick and sitting next to a cemetery. Yet there is a lot of activity going on in our church. We worship each Sunday morning at 8:00 AM, our informal service, and 10:30 AM., our traditional Lutheran liturgical service. We learn and grow in faith by offering Sunday School classes for both children and adults, a women's evening Bible study, and a senior Bible study on Tuesday afternoons. Book studies are also being planned. We witness by inviting people to learn and grow with us, and we care by our outreaches to those in need, such as Clothed in Compassion, where people come in on the 1st and 3rd Saturday mornings of each month and choose clothing for themselves and their families. We enjoy each others' company with events such as the Mother/Daughter banquet in May, the World Hunger Auction in October, our annual picnic in Bonneyville Mill County Park in Sept and much more. We are blessed with a lively youth group which meets twice a month for fun, fellowship, and planning their service projects.
You're invited to our Vacation Bible School, Studio Go! Game Show on July 12-16. Contact us by phone or e-mail for more information.
Plans are in the works to build a new church across the street from our present building. It will help us put into place programs we feel God is leading us to begin in our community.
So, if you are interested in being part of a faith community that is committed to worship and growing in faith in Jesus Christ, is compassionate toward those in need, yet likes to laugh and enjoy each other's company, please come over and visit. We won't be surprised when you do; we've been praying for you.
Here is the info on Clothed in Compassion. Thank you for your willingness to include it in your paper. I will get back to you on the Tea Room. I did glance through it and it's a beautifully done site. You obviously want to reach out to the community in a loving and compassionate way. I applaud you on that.
Karen Strietelmeier
Pastor
Zion Lutheran Church
53013 CR 19
Bristol, IN 46507
574-848-4880
pastorzion1@verizon.net
JULY 2009
"When all else fails, read the instructions."
No doubt you've seen these familiar words on a bumper sticker or poster. It seems like pretty sage advice; especially pertinent for those of us of the male gender. Too often we guys have the tendency to immediately lay aside the written instructions in favor of the "challenge" of assembling whatever it might be in the manner which "seems right" to us. Providing the thing works (even if we do have a few "spare" parts left over) we figure we've "won." However, if the thing doesn't perform as advertised….well…then (and usually only then) we might deign to see what "assistance" those discarded instructions can provide in "adjusting" our work.
As a Christian minister, I was suddenly brought to the realization that this saying needed some tweaking. After teaching several weeks on how Bible study is key to Christians being able to avoid repeating the mistakes of the past, one of my students presented me with a T-shirt that had this slogan prominently emblazoned above a picture of the Bible. Seeing this phrase applied specifically to Scripture, I was immediately struck with its intrinsic flaw. I grabbed a permanent marker, lined through the word "When" and wrote a new word above it in big, block letters, bringing it in line with a Biblical world view.
"BEFORE all else fails, read the instructions."
All Scripture is inspired by God and profitable for teaching, for reproof, for correction, for training in righteousness;so that the man of God may be adequate, equipped for every good work.2 Timothy 3:16-17 (NASB95)
God bless those churches where, not only is His Holy Word read, but where it is both believed and acted upon in a timely manner.
Thomas J. Short
Minister to the Elkhart East Christian Church
21851 County Road 4
Bristol, Indiana46507
574-264-0800
---
Check out "Into The Word," a verse-by-verse radio Bible study which I teach. It airs locally, in Michiana, at 12:30 & 11:30 pm on WHME 103.1 FM. Archived programs can be found at intotheword.net
Please click on the page you would like to visit next: