Scents of Cinnamon . . .
Home Style Country Cuisine. . .
Spring is in the air & in my belly. :)
---
What are YOUR favorite springtime recipes? SUBMIT THEM!!!
It's up to YOU to fill up this page. submit recipes to brenda@agoodneighboronline. com I can't wait to try them all!
---
MARCH 15- APRIL 15 SPRING INTO OUR CONTEST
The winning recipe takes home a $100. 00 visa or master card gift card! Be sure to include your name/address/phone/email and the winning recipe!!
GOOD LUCK!!!
---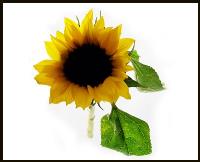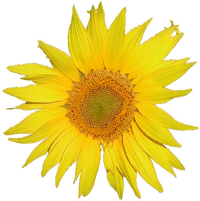 Recipes for the months of January/February and March can be found by reading FROM OUR KITCHEN in those issues of the A GOOD NEIGHBOR NEWS
ENJOY!
Merry Christmas bells are ringing!
It's time to dust off those recipes of old and resurrect those precious memories of cinnamon,nutmeg, nuts and chocolate in the air!
Divine Divinity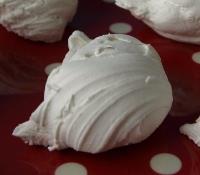 Ingredients
2 2/3 cups white sugar
2/3 cup light corn syrup
1/2 cup water
2 egg whites
1 teaspoon vanilla extract
2/3 cup chopped walnuts (optional)
Directions
Cook sugar, corn syrup, and water in a 2-quart pot over low heat, stirring constantly, until sugar is dissolved. (On humid days, use 1 tablespoon less water. ) Cook, without stirring, to 260 degrees on candy thermometer (or hard ball stage).
Beat egg whites in 1-1/2-quart bowl until stiff peaks form. Continue to beat while pouring hot syrup in a thin stream into egg whites. Add vanilla; beat until mixture holds its shape and becomes slightly dull. (Mixture may become too stiff for electric mixer). Fold in nuts (if you choose).
Drop from buttered spoon onto waxed paper. Let stand at room temperature, turning candy over once, until outside of candy is firm--at least 12 hours. Store in airtight container.
---
The bestest sugar cookies ever!
Ingredients
1 cup margarine
1 1/2 cups white sugar
2 eggs
1 teaspoon vanilla extract
1 cup sour cream
5 cups all-purpose flour
2 teaspoons baking powder
1/2 teaspoon salt
1/2 teaspoon ground nutmeg
Directions
In a large bowl, cream together the margarine and sugar. Beat in the eggs, vanilla and sour cream. Combine the flour, baking powder, salt and nutmeg, stir into the creamed mixture until just blended. Dough will be light and sticky. Cover or wrap dough and chill overnight.
Preheat oven to 350 degrees F (175 degrees C). On a lightly floured surface, roll the dough out to 1/8 inch thickness. Cut into desired shapes using cookie cutters. Place cookies 1 inch apart onto un-greased cookie sheets.
Bake in the preheated oven for 8 to 10 minutes, until cookies turn a very light brown. Remove from baking sheets to cool on wire racks.
---
Christmas Kolaches
Ingredients
2 1/2 cups warm milk
1 1/2 (. 25 ounce) packages active dry yeast
1/2 cup white sugar
1/2 cup shortening
1 tablespoon salt
2 eggs
2 egg yolks
6 1/2 cups all-purpose flour
1/2 cup fruit preserves
Directions
Pour warm milk over yeast, and let dissolve. Then add sugar, shortening, salt, eggs, egg yolks, and flour. Stir until well combined. Remove dough to a well oiled bowl, and turn once to coat the surface. Cover, and place in a warm spot. Allow to rise until doubled in bulk, about 1 hour.
Dish out dough with a tablespoon, and roll into balls. Brush each with shortening, and let rise until doubled in bulk.
Flatten the balls, and make a depression in the centers. Fill with fruit preserves. Allow to rise.
Bake at 375 degrees F (190 degrees C) for 15 to 20 minutes, or until lightly browned.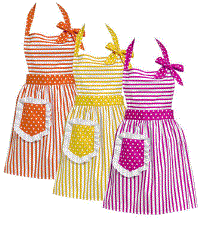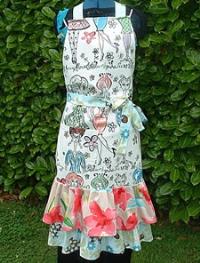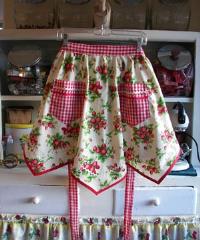 Spring is in the air . . . I can smell it under the snow. :)
FOR THE MONTHS OF SUNSHINE & PLAYFULNESS:
"Lord, please guide my hands and my heart as I prepare these foods to feed my family".
I am so ready for Spring, my heart is just on fire for it!!!
---
Roasted Chicken Salad
Ingredients
1 (2 to 3 pound) whole chicken
4 tablespoons olive oil
1 teaspoon salt
1/2 teaspoon ground black pepper
3/4 cup mayonnaise
2 tablespoons chopped fresh dill
1 cup seedless red grapes, sliced
1 (11 ounce) can mandarin oranges, drained
1/2 cup sunflower seeds
24 miniature croissants
Directions
Preheat oven to 350 degrees F (175 degrees C).
Brush chicken with olive oil, salt and pepper. Wrap in foil and bake in the preheated oven 1 to 1 1/2 hours, until internal temperature has reached 160 degrees F (70 degrees C).
Remove chicken from heat. Cool, debone and chop.
In a large bowl, mix chicken, mayonnaise and dill. Gently fold in grapes, mandarin oranges and sunflower seeds.
Spread the mixture on miniature croissants. Cover and chill in the refrigerator until serving.
---
Springtime Penne Pasta Salad
Ingredients
1 pound fresh asparagus, trimmed and cut into 1/2 inch pieces
1 (8 ounce) package sugar snap peas, trimmed
1 (8 ounce) package dry penne pasta
3 tablespoons olive oil
1/2 cup grated Parmesan cheese
salt and pepper to taste
Directions
Bring a large pot of lightly salted water to a boil. Add asparagus, and cook for 2 minutes. Add peas, and cook for 2 more minutes. Transfer to a large bowl; set aside. Add pasta to boiling water, and cook for 8 to 10 minutes or until al dente; drain.
Place pasta in the bowl with asparagus and peas. Toss with olive oil, Parmesan, salt and pepper.
Winter, sleepy winter, hush now and observe . . . the wonders about to unfold . . .
---
Perfect Turkey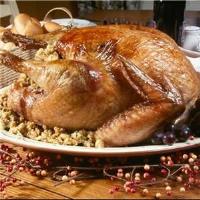 Prep Time: 30
Min Cook Time:4 Hrs
Ready In: 17 Hrs
Ingredients
1 (18 pound) whole turkey, neck and giblets removed
2 cups kosher salt
1/2 cup butter, melted
2 large onions, peeled and chopped
4 carrots, peeled and chopped
4 stalks celery, chopped
2 sprigs fresh thyme
1 bay leaf
1 cup dry white wine
Directions
Rub the turkey inside and out with the kosher salt. Place the bird in a large stock pot, and cover with cold water. Place in the refrigerator, and allow the turkey to soak in the salt and water mixture 12 hours, or overnight.
Preheat oven to 350 degrees F (175 degrees C). Thoroughly rinse the turkey, and discard the brine mixture.
Brush the turkey with 1/2 the melted butter. Place breast side down on a roasting rack in a shallow roasting pan. Stuff the turkey cavity with 1 onion, 1/2 the carrots, 1/2 the celery, 1 sprig of thyme, and the bay leaf. Scatter the remaining vegetables and thyme around the bottom of the roasting pan, and cover with the white wine.
Roast uncovered 3 1/2 to 4 hours in the preheated oven, until the internal temperature of the thigh reaches 180 degrees F (85 degrees C). Carefully turn the turkey breast side up about 2/3 through the roasting time, and brush with the remaining butter. Allow the bird to stand about 30 minutes before carving.
Sugar Cookies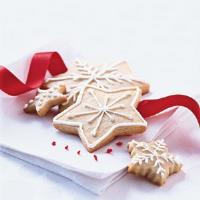 This is a tried and true old-fashioned sugar cookie recipe from a wonderful old neighbor who gave them out every Christmas.
Far too many sugar cookie recipes end up bland tasting, or with a tough texture from the wrong balance of ingredients. This recipe produces the best sugar cookies, filled with flavor that melts in your mouth. They're the ones you can't stop eating and are perfect for any occasion.
Old Fashioned Sugar Cookies Recipe
Ingredients:
3 cups sifted all-purpose flour
1 1/2 teaspoons baking powder
1/2 teaspoon salt
1 cup white sugar
1 cup butter
1 egg, lightly beaten
3 tablespoons cream
1 teaspoon vanilla extract
Directions:
Preheat oven to 400 degrees F (200 degrees C).
Sift together all-purpose flour, baking powder, sugar and salt.
Cut in butter and blend with a pastry blender until mixture is crumbly. Stir in lightly beaten egg, vanilla and cream. Blend well. Chill dough for one hour for easier rolling.
On a floured surface, roll out dough to 1/4 inch thickness. Cut into shapes. Place on un-greased baking sheet and sprinkle with sugar.
Bake for 6 - 8 minutes, or until lightly brown.
Sugar Cookie Icing Recipe
Ingredients:
2 teaspoons milk
1 cup confectioners' sugar
2 teaspoons light corn syrup
1/2 teaspoon vanilla extract
assorted food coloring colors
Directions:
In a small bowl, stir together the milk and confectioners sugar until smooth.
Beat in corn syrup and the vanilla extract until icing is smooth and glossy. If the icing is too thick, add additional corn syrup to thin slightly.
Divide the icing into separate bowls, and add food colorings to each to the preferred color intensity. Paint the icing onto the cookies or pipe with decorator icing tubes and tips.
Top with candy decorator balls, holiday sprinkles or any other festive design. Enjoy, these are as much fun to decorate as they are to eat!
The following are sure fire tips for the perfect sugar cookies:
* If you are rolling the dough to use cookie cutters, remember to keep the dough chilled. As it warms it sticks to the rolling pin and the surface you're rolling on.
* The thinner you roll your dough, the crispier the cookie will be. This recipe calls for rolling the dough 1/4 inch thick, which makes them soft with just the right amount of crispness around the outside of the cookie.
* Soften the butter at room temperature for about an hour or two before mixing. Butter that isn't softened won't mix properly and your cookies will be flat. Do not microwave butter to soften, it will soften unevenly.
* The eggs should also be room temperature. Cold eggs can cause the batter to curdle.
* Halfway through the baking process, take a minute to rotate the baking sheets from back to front for even baking. This step is worth it to prevent unevenly baked batches of cookies.
* If you are making more than one batch, do not put the dough on hot cookie sheets. It will spread as you're placing the dough on the sheet, and baking will be uneven.
* The brand of flour makes a difference. Gold Medal or Pillsbury flours are lower-protein. King Arthur flour is higher protein which produces slightly drier, cakier cookies.
* If you want extra dough, this sugar cookie recipe freezes well. You can freeze the dough for about four weeks as long as it is tightly wrapped.
---
Strawberry Streusel Cheesecake
INGREDIENTS
CRUST
Crisco No-Stick Cooking Spray
2 (7oz) pkgs. Martha White Strawberry Muffin Mix
6 T cold butter
FILLING
2 (8oz) pkgs. cream cheese, softened
1/2 cup sugar
2 T Martha White All-Purpose Flour
1 egg
1 t vanilla extract
DIRECTIONS
Heat oven to 350 degrees F. Spray bottom and sides of 10 to 11 inch springform pan with no-stick cooking spray. Combine muffin mix and butter in medium bowl; cut in butter with pastry blender or fork until mixture is crumbly. Reserve 1 1/3 cups crumb mixture; place in refrigerator. Press remaining crumbs in bottom and partially up sides of prepared pan. Place pan on cookie sheet; bake 10 minutes.
Combine cream cheese, sugar, flour, egg and vanilla in large bowl. Beat with electric mixer on medium high for 1 1/2 to 2 minutes or until creamy and smooth.
Spoon cream cheese mixture evenly over partially baked crust; spread gently. Spoon pie filling evenly over cream cheese mixture. Sprinkle with reserved crumbs and chopped walnuts.
Bake 40 to 45 minutes longer, or until light golden brown. Cool about 30 minutes. Chill 2 hours or overnight.
To serve, remove sides from springform pan; place on serving plate. Cut into wedges. Store in refrigerator.
---
Chocolate Crinkles; submitted by Mrs. Jim Nickels
Ingredients
1/2 c. vegetable oil
2 c. flour
4 sq. unsweetened chocolate (4 oz. melted)
2 c. granulated sugar
4 eggs
2 tsp. baking powder
1/2 tsp. salt
1 c. confectioner's sugar
2 t. vanilla
Mix oil, chocolate and granulated sugar. Blend in one egg at a time until well mixed. Add vanilla. Measure flour by dipping method or by sifting. Stir flour, baking powder and salt into mixture. Chill several hours or overnight. Heat oven to 350. Drop teaspoonfuls of dough into confectioner's sugar. Roll in sugar; shape into balls. Place 2" apart on greased baking sheet. Bake 10 to 12 minutes or until almost no imprint remains when touched lightly in center. Makes 6 dozen cookies.
---
take me now to that place of warm breezes and blue skies . . .
---
Sally's Fruit Salad
Ingredients
1 cubed cantelope
1 cubed watermelon
2 big bunches o' grapes
1 pt. strawberries
1pt. blueberries
1 pt. raspberries
4 oranges, peeled, cubed
Directions
mix all ingredients together in smaller bowl
mix 16oz cream cheese with large container of cool whip
add in 2 tsp. orange zest
serve fruit in bowls with large dollop of topping
mm, mm good!
---
Mama's Sweet Tea
1 gallon container (preferably glass)
fill with water
float 6-8 regular size tea bags
set out on porch in full sun all day
bring inside and add sugar
(or sweetener)
fill a chilled glass full of ice
enjoy!
---

Texas Style BBQ Brisket
~contributed by Joe Groh!

Ingredients
1 (15 oz. ) bottle Liquid Smoke
1 tsp. onion salt
1 tsp. garlic salt
1 small bottle Worcestershire sauce
1 bottle Jack Daniel's Original Number 7 Recipe BBQ sauce
3 ½ to 4 lb. beef brisket
Directions
Marinate brisket overnight wrapped in foil
Marinate in Liquid Smoke, Worcestershire sauce, onion salt, garlic salt, and BBQ sauce mix.
Next day, cook brisket in a covered pan (i. e. roast turkey pan) at 250° for 8 hours, basting at regular intervals.
Add additional BBQ sauce during final 30 minutes with foil open and lid off. Slice thin and enjoy y'all!
Possible sides: Tossed salad, coleslaw, French fries, potato salad, Bushes brand of maple bacon flavored baked beans, corn on the cob, soft dinner rolls, your favorite flavor of Blue Bell ice cream, Dr. Pepper, or your favorite adult beverage.
---
Christie's Delight (Named for my daughter)
-contributed by Joe Groh
Ingredients
1 lb. ground beef
½ cup chopped onion
1 (16 oz. ) can cut green beans, drained
1 (10 ¾ oz. ) can condensed tomato soup
¼ cup water
¾ tsp. salt
1/8 tsp. pepper
4 to 6 potatoes
1 beaten egg
½ cup shredded cheddar cheese
Directions
Cook ground beef and onion until meat is brown and onions tender; drain grease.
Stir in green beans, tomato soup, salt, pepper, and water.
Turn mixture into a 1 ½ quart casserole dish.
In separate pan, boil potatoes until tender, about 20 minutes.
Mash while hot; blend in egg.
Cover meat mixture with an even layer of mashed potatoes.
Sprinkle evenly with cheese.
Bake, uncovered, at 350° in oven for 25 to 30 minutes.
Serves 4 to 6.
While serving, listen for sound of kid howling with delight! :)
Easter is a time of extraordinary happiness and blessing!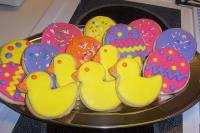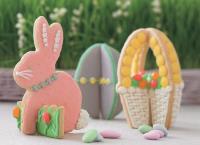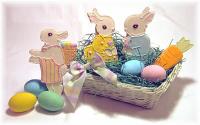 Rolling and Cutting
Cookie dough is much easier to work with after it's been refrigerated for at least half an hour--and the cut-outs will hold their shape better if the dough is cold.
Keep cookie cutters from sticking to the dough by misting them very lightly with cooking spray.
If you're cutting out delicate or large shapes, roll out the dough on parchment paper, lifting off the scraps; slide the paper directly onto a baking sheet.
Frosting
One popular frosting for sugar cookies is a simple glaze of confectioners' sugar and either milk or fruit juice. By adjusting the ratio of liquid to sugar, you can make this glaze as thick or as thin as you'd like.
Royal icing is another option: it dries to a hard, crunchy finish and also holds up well in the mail.
Buttercream frosting is soft and thick; tasty, but not good if you plan to stack the cookies.
Instead of frosting, you can also dip half or all of a cookie in chocolate and then in chopped nuts or crushed candy canes.
---
BUNNY COOKIES
INGREDIENTS
1 1/4 cups white sugar
2/3 cup shortening
2 eggs
3 1/2 cups all-purpose flour
1/2 teaspoon salt
2 teaspoons baking powder
2 1/2 teaspoons orange zest
1 tablespoon orange juice
1/4 cup cinnamon red hot candies
DIRECTIONS
Preheat oven to 375 degrees F (190 degrees C).
In a large bowl, cream together the sugar and shortening. Add eggs and beat until smooth. Stir in the flour, baking powder, and salt until well blended. Mix in the orange juice and orange zest.
On a lightly floured surface, roll out the dough to 1/4 inch thickness. Cut out rabbit shapes with a cookie cutter. Place rabbits onto an unprepared cookie sheet and place the cinnamon candies onto them for eyes. Bake in the preheated oven for 8 to 10 minutes. Frost if desired.
---
Easter Story Cookies
This is a recipe but also an Easter activity for you to do with your children. We've found that it's an excellent way to reinforce the message that Easter is not just about the Easter Bunny. The cookies are good, too.
Ingredients:
Your family Bible
1 cup sugar
1 cup whole pecans
1 zip-lock baggie
1 wooden spoon
1 teaspoon vinegar
3 egg whites
tape
Preheat oven to 300° F.
Place pecans in zipper baggie and let children beat them with the wooden spoon to break into small pieces. Explain that after Jesus was arrested He was beaten by the Roman soldiers. Read John 19:1-3.
Then Pilate therefore took Jesus, and scourged Him. And the soldiers platted a crown of thorns, and put it on His head, and they put on Him a purple robe, And said, Hail, King of the Jews! and they smote Him with their hands. John 19:1-3
Let each child smell the vinegar. Put 1 tsp. vinegar into mixing bowl. Explain that when Jesus was thirsty on the cross He was given vinegar to drink. Read John 19:28-30.
After this, Jesus knowing that all things were now accomplished, that the scripture might be fulfilled, saith, I thirst. Now there was set a vessel full of vinegar: and they filled a sponge with vinegar, and put it upon hyssop, and put it to His mouth. When Jesus therefore had received the vinegar, He said, It is finished: and He bowed His head, and gave up the ghost. John 19:28-30
Add egg whites to vinegar. Eggs represent life. Explain that Jesus gave His life to give us life. Read John 10:10-11.
The thief cometh not, but for to steal, and to kill, and to destroy: I am come that they might have life, and that they might have it more abundantly. I am the Good Shepherd: the Good Shepherd giveth His life for the sheep. John 10:10-11
Sprinkle a little salt into each child's hand. Let them taste it and brush the rest into the bowl. Explain that this represents the salty tears shed by Jesus' followers, and the bitterness of our own sin. Read Luke 23:27.
And there followed Him a great company of people, and of women, which also bewailed and lamented Him. Luke 23:27
So far the ingredients are not very appetizing. Add 1 cup sugar. Explain that the sweetest part of the story is that Jesus died because He loves us. He wants us to know we belong to Him. Read Psalm 34:8 and John 3:16.
O taste and see that the LORD is good: blessed is the man that trusteth in Him. Psalm 34:8
For God so loved the world, that He gave His only begotten Son, that whosoever believeth in Him should not perish, but have everlasting life. John 3:16
Beat with a mixer on high speed for 12 to 15 minutes until stiff peaks are formed. Explain that the color white represents the purity in God's eyes of those whose sins have been cleansed by Jesus. Read Isaiah 1:18 and John 3:1-3.
Come now, and let us reason together, saith the LORD: though your sins be as scarlet, they shall be as white as snow; though they be red like crimson, they shall be as wool. Isaiah 1:18
There was a man of the Pharisees, named Nicodemus, a ruler of the Jews: The same came to Jesus by night, and said unto him, Rabbi, we know that thou art a teacher come from God: for no man can do these miracles that Thou doest, except God be with Him. Jesus answered and said unto him, Verily, verily, I say unto thee, Except a man be born again, he cannot see the kingdom of God.
John 3:1-3
Fold in broken nuts. Drop by teaspoons onto parchment paper covered cookie sheet. Explain that each mound represents the rocky tomb where Jesus' body was laid. Read Matthew 27:57-60.
When the even was come, there came a rich man of Arimathaea, named Joseph, who also himself was Jesus' disciple: He went to Pilate, and begged the body of Jesus. Then Pilate commanded the body to be delivered. And when Joseph had taken the body, he wrapped it in a clean linen cloth, And laid it in his own new tomb, which he had hewn out in the rock: and he rolled a great stone to the door of the sepulcher, and departed. Matthew 27:57-60
Put the cookie sheet in the oven, close the door and turn the oven OFF. Give each child a piece of tape and seal the oven door. Explain that Jesus' tomb was sealed. Read Matthew 27:65-66.
Pilate said unto them, Ye have a watch: go your way, make it as sure as ye can. So they went, and made the sepulcher sure, sealing the stone, and setting a watch. Matthew 27:65-66
GO TO BED! Explain that they may feel sad to leave the cookies in the oven overnight. Jesus' followers were in despair when the tomb was sealed. Read John 16:20-22.
Verily, verily, I say unto you, That ye shall weep and lament, but the world shall rejoice: and ye shall be sorrowful, but your sorrow shall be turned into joy. A woman when she is in travail hath sorrow, because her hour is come: but as soon as she is delivered of the child, she remembereth no more the anguish, for joy that a man is born into the world. And ye now therefore have sorrow: but I will see you again, and your heart shall rejoice, and your joy no man taketh from you. John 16:20-22
On Easter morning, open the oven and give everyone a cookie. Notice the cracked surface and take a bite. The cookies are hollow! On the first Easter, Jesus' followers were amazed to find the tomb open and empty. Read Matthew 28:1-9.
In the end of the sabbath, as it began to dawn toward the first day of the week, came Mary Magdalene and the other Mary to see the sepulcher. And, behold, there was a great earthquake: for the angel of the Lord descended from heaven, and came and rolled back the stone from the door, and sat upon it. His countenance was like lightning, and His raiment white as snow: And for fear of Him the keepers did shake, and became as dead men. And the angel answered and said unto the women, Fear not ye: for I know that ye seek Jesus, which was crucified. He is not here: for He is risen, as He said. Come, see the place where the Lord lay. And go quickly, and tell His disciples that He is risen from the dead; and, behold, He goeth before you into Galilee; there shall ye see Him: lo, I have told you. And they departed quickly from the sepulcher with fear and great joy; and did run to bring His disciples word. And as they went to tell His disciples, behold, Jesus met them, saying, All hail. And they came and held Him by the feet, and worshipped Him. Matthew 28:1-9
HE HAS RISEN!
---
Glazed Spiral Cut Ham
1 fully-cooked shank half ham bone-in (pre-sliced is best)
1 cup sugar
1/4 tsp ground cinnamon
1/4 tsp ground nutmeg
1/4 tsp ground clove
1/8 tsp paprika
1 dash ground ginger
1 dash ground allspice
Directions
First you must slice your ham. Use a very sharp knife to cut the ham into very thin slices around the bone. Do not cut all the way down to the bone or the meat may not hold together properly as it is being glazed. You want the slices to be quite thin, but not so thin that they begin to fall apart or off the bone. You may wish to turn the ham onto its flat end and cut around it starting at the bottom. You can then spin the ham as you slice around and work your way up.
Mix the remaining ingredients together in a small bowl.
Lay down a couple sheets of wax paper onto a flat surface, such as your kitchen counter. Pour the sugar mixture onto the wax paper and spread it around evenly.
Pick up the ham and roll it over the sugar mixture so that it is well coated. Do not coat the flat end of the ham, just the outer surface which you have sliced through.
Turn the ham onto its flat end on a plate. Use a blow torch with a medium-size flame to caramelize the sugar. Wave the torch over the sugar with rapid movement, so that the sugar bubbles and browns, but does not burn. Spin the plate so that you can torch the entire surface of the ham. Repeat the coating and caramelizing process until the ham has been well-glazed (don't expect to use all of the sugar mixture). Serve the ham cold or re-heated, just like the real thing.
This recipe yields 1 holiday ham.
Look for a ham that's pre-sliced. Otherwise you'll have to slice it yourself with a sharp knife, then the glaze will be applied. To get the coating just right you must use a blowtorch. If you don't have one, you can find a small one in hardware stores for around 15 bucks.
* Yield: 1 ham
---
BRAIDED EASTER BREAD
INGREDIENTS
2 1/2 cups all-purpose flour, divided
1/4 cup white sugar
1 teaspoon salt
1 (. 25 ounce) package active dry yeast
2/3 cup milk
2 tablespoons butter
2 eggs
5 whole eggs, dyed if desired
2 tablespoons butter, melted
DIRECTIONS
In a large bowl, combine 1 cup flour, sugar, salt and yeast; stir well. Combine milk and butter in a small saucepan; heat until milk is warm and butter is softened but not melted.
Gradually add the milk and butter to the flour mixture; stirring constantly. Add two eggs and 1/2 cup flour; beat well. Add the remaining flour, 1/2 cup at a time, stirring well after each addition. When the dough has pulled together, turn it out onto a lightly floured surface and knead until smooth and elastic, about 8 minutes.
Lightly oil a large bowl, place the dough in the bowl and turn to coat with oil. Cover with a damp cloth and let rise in a warm place until doubled in volume, about 1 hour.
Deflate the dough and turn it out onto a lightly floured surface. Divide the dough into two equal size rounds; cover and let rest for 10 minutes. Roll each round into a long roll about 36 inches long and 1 1/2 inches thick. Using the two long pieces of dough, form a loosely braided ring, leaving spaces for the five colored eggs. Seal the ends of the ring together and use your fingers to slide the eggs between the braids of dough.
Preheat oven to 350 degrees F (175 degrees C). Place loaf on a buttered baking sheet and cover loosely with a damp towel. Place loaf in a warm place and let rise until doubled in bulk, about 45 minutes. Brush risen loaf with melted butter.
Bake in preheated oven for 50 to 55 minutes, or until golden.
---
JELL-O JIGGLERS
time to have a little jiggly giggly fun!
Ingredients
2-1/2 cups boiling water (Do not add cold water. )
2 packages (8-serving size each) JELL-O Brand Gelatin, any flavor
Directions
Stir boiling water into dry gelatin mix in large bowl at least 3 minutes until completely dissolved. Pour into 13x9-inch pan.
Refrigerate at least 3 hours or until firm.
Dip bottom of pan in warm water 15 seconds. Cut into 24 decorative shapes using 2-inch cookie cutters, being careful to cut all the way through gelatin to bottom of pan. Lift JIGGLERS® from pan. Reserve scraps for snacking. Store in tightly covered container in refrigerator.
What wouldst you have me make for thee my beloved, to show thee that mine love for thee is true and unfailing?

What wouldst you have me bring forth from the efforts of mine hands, to direct a path to thou heart that wouldst imprint upon it the pure love that lies within mine own? -bd

VALENTINES FOR YOUR BELOVED

Raspberry Linzer Heart Cookies

Ingredients

16 Tbsp (2 sticks) unsalted butter, at room temperature
2/3 cup plus 3 Tbsp confectioners' sugar
1 large egg yolk
1 tsp. vanilla extract
2 1/2 cups all-purpose flour
1/4 tsp salt
2/3 cup raspberry jam

Directions

Preheat oven to 325 degrees F. ; line 2 baking sheets with parchment. Beat butter and 2/3 cup sugar until fluffy. Beat in egg yolk and vanilla, then flour and salt. Shape dough into 2 disks; wrap 1 in plastic and refrigerate.
On a floured surface, roll out remaining disk to about a 1/8 inch thickness. Cut out cookies with a 2 1/2 inch heart-shaped cutter. Use a smaller heart cutter to cut a window out of half of the cookies. With a spatula, carefully transfer cookies to prepared baking sheets. Repeat with remaining dough. Gather scraps and roll out again to make more cookies.
Bake cookies in batches until edges of cookies are just golden, 10 to 12 minutes. Let cool for 5 minutes, then transfer cookies onto wire racks to let cool completely.
Spread 3/4 tsp jam over flat side of each cookie that doesn't have a window. Top with remaining cookies, flat side down, so that jam shows through windows. Carefully sift 3 Tbsp confectioners' sugar over cookies.

PER SERVING (2 COOKIES): 240 Cal. , 13 g Fat (8 g Sat), 47 mg Chol, 1 g Fiber, 2g Pro. , 29 g Carb. , 41 mg Sod.
I found this little list in a magazine and thought I would share it with you. It sure has come in handy in our house already.

REPLACE THIS. . . . . . . . . . . . . . . . . . . . . WITH THIS

Red Wine . . . . . . . . . . . . . . . . . . . . . . . . . . . . . . . . Pure Cranberry Juice

White Wine. . . . . . . . . . . . . . . . . . . . . . . . . . . . White grape juice or apple juice

Mascarpone. . . . . . . . . . . . . . . . . . . . . . . . . . Cream cheese mixed with a bit of heavy cream

Buttermilk (1 cup). . . . . . . . . . . . . . . . . 1 cup milk + 1 Tbsp lemon juice or vinegar (let stand for 10 minutes)

Creme fraiche (1 cup) . . . . . . . . . . 1/2 cup sour cream mixed with 1/2 cup heavy cream

Edamame . . . . . . . . . . . . . . . . . . . . . . . . . . . . . Green peas or black-eyed peas

Maple Syrup . . . . . . . . . . . . . . . . . . . . . . . . Brown sugar (with a little water)

Molasses . . . . . . . . . . . . . . . . . . . . . . . . . . . . . . . . Honey

Cake Flour (1 cup) . . . . . . . . . . . . . . Use 1 cup all-purpose flour minus 2 Tbsp

Macadamia nuts . . . . . . . . . . . . . . . . . . Walnuts, almonds or cashews

Fresh herbs (1 Tbsp) . . . . . . . . . . . 1 tsp. dried herbs

Allspice (1Tbsp) . . . . . . . . . . . . . . . . . . . 1 tsp cinnamon + 1 tsp nutmeg + 1 tsp ground cloves

Unsweetened chocolate . . . . . 3 Tbsp cocoa powder + 1 Tbsp unsalted butter, per oz.

Vanilla beans . . . . . . . . . . . . . . . . . . . . . . . 1 tsp. vanilla extract per inch of bean

Chives . . . . . . . . . . . . . . . . . . . . . . . . . . . . . . . . . . . Scallion greens

Boneless, skinless chicken breasts . . . . . . . . . . . . . . . Boneless, skinless chicken thighs

Make delicious dishes without pricey ingredients

I don't know about you but I like to assemble all of my ingredients ahead of time. It is not uncommon that I have had to run to the store to gather needed items that I didn't have on hand.
"Those who bring sunshine into the lives of others cannot keep it from themselves"
- Sir James M. Barrie
---
Chocolate Sauerkraut Cake - Linda Cripe
Ingredients
3/4 cup drained and chopped sauerkraut
1 1/2 cups buttermilk
2/3 cup butter
1 3/4 cups packed light brown sugar
2 teaspoons vanilla extract
2 eggs
2/3 cup unsweetened cocoa powder
2 1/4 cups all-purpose flour
1 1/2 teaspoons baking powder
1 teaspoon baking soda
1/4 teaspoon salt
Directions
Preheat oven to 350 degrees F (175 degrees C). Grease and flour a 9x13 inch pan. Sift cocoa, flour, baking powder, baking soda and salt together and set aside. In a separate small bowl, combine buttermilk with sauerkraut and set aside.
In a large bowl, cream butter, brown sugar and vanilla until light and fluffy. Add eggs and beat in. Add flour mixture alternately with sauerkraut mixture. Beat only until blended.
Pour batter into 9x13 inch pan. Bake at 350 degrees F (175 degrees C) for about 45 minutes, or until toothpick inserted into cake comes out clean. Cool cake and frost with your favorite chocolate frosting.
Note: I put the kraut and the buttermilk in my food processor and make sure it's mixed well. The first time I made this cake my son saw the sauerkraut and thought I had put meal worms in the cake. In fact after I mix the buttermilk and the kraut I just dump everything else in the processor and mix until well blended. I don't sift any of it and it comes out fine for me every time. This is a heavy cake for sure.
---
Banana Cake -Linda Cripe

Ingredients
3/4 cup shortening
2 l/2 cup sifted flour
l 2/3 cup sugar
l l/4 tsp. baking powder
l tsp soda
l tsp salt
l l/4 cup mashed bananas (about 3)
2/3 cup buttermilk
2 eggs (beaten)
Directions
Cream shortening and sugar
Stir in bananas and half of the buttermilk and eggs.
Beat
Add sifted dry ingredients . Beat
Stir in rest of buttermilk
Pour in greased and floured round cake pans
Bake at 350 degrees for 30 to 35 minutes
I also just blend up the bananas in the processor with the buttermilk and dump in all the other ingredients and blend well. I bake this in a 9X13 cake pan for about 40 to 45 minutes. I start to check it at 40 minutes for sure.
I guess you can tell I don't like to sift ingredients.
---

These are called "Mom's Cinnamon Rolls (just perfect for Christmas morning!) -bd
(I found this recipe in Guideposts magazine)
1 loaf of frozen bread dough, thawed, not risen
5 Tablespoons of butter or margarine, softened to room temperature
5 Tablespoons sugar
3 teaspoons cinnamon
Note: Be sure frozen dough is covered as it thaws so that it doesn't get dried out.
Preheat oven to 350 degrees F. Mist a 9-inch round or square pan with cooking oil spray. Roll out dough to about 12x14 inches. Spread butter evenly on top of the dough. Sprinkle with sugar and then with cinnamon. Roll up jelly-roll style, tightly pinching ends so sugar/cinnamon doesn't fall out. With a sharp knife cut into 1-inch sections and lay in prepared pan. Allow dough to rise to double its size (around 2 – 4 hours). Bake for 15 to 20 minutes. < Top will be golden brown when done. Allow rolls to cool slightly while preparing topping.
Topping:
1 cup powdered sugar
1 Tablespoon milk
Mix powdered sugar and milk to make a thick paste. Add more milk or powdered sugar as needed. Spread on still-warm rolls, allowing the frosting to melt slightly. Serve warm. Mmm, yummy!
---
*LADIES! . . . one of our neighbors needs a specific recipe . . . can you help?
(If you are in possession of such a recipe, please email brenda@agoodneighboronline and I will make sure to post it and send it on to Linda. Thank you!)
I'm looking for a cinnamon/apple sour dough cake. This is a heavy cake. My mother-in-law used to bake this all the time and I've lost the recipe. It made a 9X13 cake that used cut up apples not applesauce. Can anyone help me with this?
I love this website. I just found it while reading the Bristol Bugle Newspaper. Great idea
Linda Cripe
Linda . . . here are two recipes, however we are all still searching, hopefully we have already or will find the recipe you are seeking! Neither one of these seems to be the correct size you specified. The search continues!
---
Sourdough Apple Dessert Cake

APPLE DESSERT CAKE
Peel core and slice 6-7 medium apples and place them in a bowl. Add 2 tbsp lemon juice and 2 cups of sugar and mix well. (May also add the grated rind of 1 lemon if you wish) Let stand 10 minutes.
Cream together 1 cup shortening (I used butter flavor) and 2 eggs and add to apple mix. If you are using a sourdough starter, add 1/2 cup of it at this point. In a separate bowl, mix together 3 cups all purpose flour-2 tsp baking soda-1 tsp cinnamon & 1/2 tsp salt.
Add dry ingredients gradually to apples and make sure they are well mixed in.
You can also add 1 cup of chopped walnuts (remember, I used almonds along with the cardamom. You can also make this cake without the starter-it's just as scrumptious).
Grease and flour a 10" tube pan. Spread mix into pan and bake 350-375 degrees for about 1 hour until cake tester comes out clean/top springs back after a light touch. Cool on wire rack. This cake was very good the first day I made it, but as the days went by the taste really developed an apple-cinnamon headiness that was divine.
---
Dried Apple Cake
Yields: 10-12 servings
Preparation: 20 minutes
Cooking: 40 minutes
Ready In: 60 minutes
Ingredients
1/2 lb. Diced/Chopped Apples
4 Cups Water
1 Cup Sugar
1 1/2 Cups Sourdough Starter
1/2 Cups Brown Sugar
1 Tsp Cinnamon
1/2 Tsp Nugmeg
1/4 Cup Butter
Dry baking mix recipe
2 Cups All Purpose Flour
1 Tbsp Sugar
1Tbsp Baking Powder
1 TspSalt
1/3 Cup Lard or Shortening
Directions
To prepare Dry Baking Mix: Stir or mix dry ingredients.
Cut in lard till mixture resembles fine meal.
To prepare cake: Cook dried apples in 4 cups water until tender. Drain and save juice. Measure 2 cups juice, adding water if needed.
Mix 1/4 cup sugar with dry baking mix; stir in sourdough starter to moisten flour. Turn out onto a floured surface, knead lightly; pat or roll to a 12 x 18 inch rectangle. Sprinkle with apples.
Roll, starting at short end; cut into 12 slices. Put remaining sugar, brown sugar, cinnamon, nutmeg, butter and the 2 cups of apple liquid into a large deep skillet.
Bring to a boil.
Gently lower apple slices into hot syrup.
Bake in a 375 degree F oven for 35-40 minutes.
Ultimate Gingerbread Cookies
by S. Yoder
Can be used for gingerbread houses or tree ornaments. May be baked and frozen, tightly wrapped for up to 2 months; thaw overnight in the refrigerator before decorating.
6 cups all purpose flour
1 tsp baking soda
1/2 tsp baking powder
4 tsp ginger
4 tsp cinnamon
1 1/2 tsp cloves
1 1/2 tsp salt (optional)
1/2 c unsalted butter (1 stick)
1/2 c shortening
1 c packed dark brown sugar
2 large eggs
1 c dark molasses
Sift dry ingredients together. In another bowl. cream the butter, shortening and brown sugar. Mix in the eggs and molasses and combine well, then add the flour in batches until fully incorporated. Divide the dough into six parts and form into flat discs; wrap in plastic wrap and chill for at least 2 hours.
Preheat the oven to 350 degrees F. Roll the dough out to a thickness of 1/8 inch and cut out cookies, gathering and reusing scraps. Cook on greased cookie sheet for 8 to 10 minutes, transfer to a wire rack and cool. makes about 9 dozen 2 - 2 1/2 inch cookies.
Easy Snow White Icing
by S. Yoder
This icing is very easy to work with and dries hard on the cookies in about 30 minutes. It can also be tinted with paste food coloring.
2 egg whites
2 tsp lemon juice
3 c powdered sugar
In a large bowl, beat the egg whites with the lemon juice; add the powdered sugar one cup at a time until combined. Spoon the frosting into a pastry bag and use to decorate cookies. The mixture dries quickly, so always keep it tightly covered. (If the uncooked egg whites this recipe uses is a concern you may substitute pasteurized liquid egg whites. )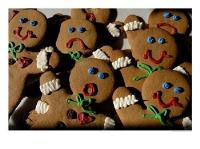 OH MY GOODNESS . . .
THIS IS THE BEST "FRIED" CHICKEN EVER!!!
Okay, ladies . . . this is SUPER SIMPLE!!! You know those cans of dried onion rings you are always putting on your green bean casseroles? Well . . . LOOK ON THE LABEL . . . there you will find the most amazing recipe for BAKED chicken that I have ever come across. Bob requests this meal over and over again! It is a sure hit with our family. I make one little "tweak" to the recipe. I liberally sprinkle seasoned salt and seasoned pepper all over the chicken (both sides) prior to dipping the chicken in the egg and then into the crushed onions. Mmm Mmm GOOD!!!
Apple-Raspberry Turnovers - submitted by bd

Prep: 10 min.
Bake: 20 min.
Yield: 6 turnovers
Cost per serving: . 50 cents

Ingredients

1 medium apple, peeled, cored & diced
2 TBSP. seedless raspberry jam
1 1/2 tsp. cornstarch
1 1/2 TBSP. sugar
1/4 tsp. cinnamon
1 sheet frozen puff pastry (from 1 17. 5-oz. package), thawed
1 large egg, lightly beaten

Directions

Position rack in lower third of oven and preheat to 400 degrees F.
Line a baking sheet with a piece of parchment paper.
Combine apples, jam and cornstarch in a medium bowl.
Mix sugar and cinnamon in a separate small bowl.
On a lightly floured surface, roll out puff pastry into an 8 x 12 inch rectangle.
Cut pastry into 4 4-inch squares with a sharp knife or pizza cutter.
Spoon some apple mixture into center of each square, leaving a 1-inch border.
Brush borders with beaten egg.
Fold each square into a triangle and press edges with tines of a fork to seal (be sure to seal tightly).
Using a sharp paring knife, cut 2 small steam vents in top of each turnover.
Sprinkle each turnover with cinnamon sugar.
Place turnovers on lined baking sheet.
Bake until golden and puffed, about 20 minutes.
Serve warm.

PER SERVING: 388 Cal. , 24 g Fat (6 g Sat. ), 35 mg Chol. , 1 g Fiber, 8 g Pro. , 39 g Carb. , 416 mg Sod.

by J. Black
6 servings
Start to finish: 20 minutes
Ingredients
1/3 cup of mayo or salad dressing
1 tablespoon lime juice
2 teaspoons honey
1/4 teaspoon ground cumin
1/8 to 1/4 teaspoon ground chipotle chile pepper
2 cups shredded green cabbage
1 cup shredded red cabbage
3/4 cup whole kernel corn (thawed, if frozen)
3/4 cup chopped red sweet pepper
1/3 cup thinly sliced red onion
1/3 cup chopped cilantro
Directions
In a small bowl stir together mayo, lime juice, honey, cumin and chipotle chile pepper. In a large bowl combine cabbage, corn, sweet pepper, onion and cilantro. Pour mayo mixture over cabbage mixture. Taste prior to serving as you may want to add more spices for a stronger result. Toss lightly to coat.
Serve immediately or cover and chill up to 24 hours.
ENJOY!
NO FAIL PIE CRUST
~by bd
Ingredients
2 1/2 cups all-purpose flour
1 1/2 tsp sugar
1 tsp salt (optional)
1 cup cold unsalted butter, cut into 1/2 inch pieces
1/2 cup cold water
1 tbsp white vinegar
Directions
Mix dry ingredients, add in butter, water and vinegar
Mix well (if mixture still crumbles add tiny bits of water until able to shape)
Shape into ball
Wrap in plastic wrap
Refrigerate until ready to use.
(Can be made ahead. Place wrapped dough in heavy-duty resealable plastic. You can even freeze for up to 2 months - if you do freeze, thaw in refrigerator for 5 hours before using. ) - bd
USE YOUR COOKIE CUTTERS TO MAKE YOUR PIE CRUSTS LOOK TOP-NOTCH



If you brush the top of your crust with beaten egg white prior to baking you will create a beautiful glossy finish to your pie.
(if you sprinkle a bit of sugar on top of the egg white prior to baking your pie will sparkle like a jewel)
Spice-Rubbed Chicken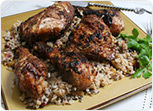 by J. Black
Roasting chickens are larger than broiler/fryer chickens and tend to be juicier. They're ideal for whole-roasting and rotisserie cooking.
PREP: 20 min.
ROAST: 2 hr.
OVEN: 350
Ingredients
4 cups thickly sliced or quartered red, white, and/or yellow onions
1 5-6 lb. whole roasting chicken
1 tsp. sugar
1 tsp. garlic powder
1 tsp. ground cumin
1 tsp. paprika
1 tsp. ground coriander
1/2 tsp. salt
1/4 tsp. ground black pepper
1/8 tsp. ground nutmeg
2 TBS olive oil
Chard leaves (optional)
Directions
Preheat oven to 350F In large shallow roasting pan place half the onions in an even layer. Sprinkle with 1/4 tsp. salt; set aside. Fold chicken neck skin onto chicken back, secure with small skewer; tie legs to tail with kitchen string. Tie wings close to body or twist wing tips up and tuck under back of the chicken.
In small bowl combine sugar and remaining seasonings. Brush chicken all over with oil. Sprinkle spice mixture and rub in with fingers. Place chicken, breast side up, on onions in pan. If desired, insert meat thermometer into center of inside thigh muscle. (Thermometers should not touch bone. ) Loosely cover with foil.
Roast 1 hour. Remove foil. Add remaining onions to pan. Roast, uncovered, 30 minutes; cut strings on legs and wings. Roast 30 to 45 minutes more or until drumsticks move easily in their sockets and chicken is no longer pink. (180F in thigh). Cover with foil. Let stand 15 minutes before carving. Serve chicken with roasted onions and chard leaves.
ABC's OF EXCELLENT BAKING APPLES: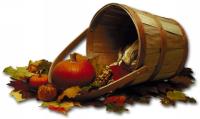 Name
Flavor
Description
Season
Braeburn
Sweet-tart, firm crispy, with tender skin
Holds shape and retains tart taste when cooked
September to April
Golden Delicious
Sweet, mellow, tender
Excellent for pies and other cooking, has tender rich flavor and retains shape when baked.
September to June
HoneyCrisp
Very sweet - tangy crisp
Typically eaten fresh but excellent in baked goods and sauces
September to February
Joan gold
Sweet-tart and crisp
Combines honey-tartness of Jonathan with crispness of Golden Delicious
September to May

Pippin
(Newton Pippin)

Slightly tart, firm
Excellent for pies, holds shape and retains flavor when cooked
September to June
Rome Beauty
Slightly tart, firm
One of the best for baking; holds shape and flavor deepens when cooked
September to June

MOM'S APPLE PIE
ONION MATH:

1 small onion = 1/3 cup chopped

1 medium onion = 1/2 cup chopped

1 large onion = 1 cup chopped

1 large red onion = 2 cups chopped

BLT dip

by J. Black

Ingredients

1 Cup Sour Cream
1 Cup Miracle Whip ( of Mayo your choice)
1 lb Bacon
1 tomato ( your choice of color)

Directions

Cook Bacon accordingly and crumble
Dice tomato to 1/2 in cubes
Mix Bacon, tomato, and all other ingredients in bowl.
Chill for 1-2 hours in refrigerator.
Serve on toast, bread, or your choice of crackers.

Enjoy!
Please click on the page you would like to visit next: